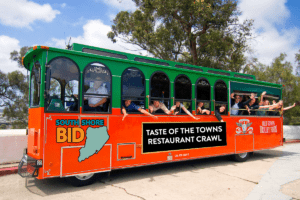 STATEN ISLAND, N.Y. — Staten Islanders can sample food and beverages from more than 20 locations at a restaurant crawl in Annadale, Eltingville and Great Kills on Sunday.
The South Shore Business Improvement District (BID) and Councilman Joe Borelli are hosting the Taste of the Towns event from 1 to 6 p.m. with trolley service available to shuttle guests to and from each town.
Watch live drone footage of the restaurant crawl here. The next live stream is at 1:30 p.m.
"This event is not only going to highlight the beauty of our towns, but also showcase the great restaurants and businesses we have here on the South Shore," said Borelli.
"The South Shore BID is one of the most unique in the city, and I applaud them for taking the idea of a restaurant crawl and adding a modern spin on it to include trolley service transportation," he added.
Two trolleys are available non-stop for the duration of the event, but guests are also encouraged to use their own vehicles or use the Staten Island Railway.
The 23 participating businesses are: Annadale Terrace, Annadale Bakery, Alfonso's Bakery, Campania, Curly Wolf Saloon, Desert Rose, Filoncino Cafe, Freddie's Gourmet Deli, Joyce's Tavern, Play Sports Bar, The Pizza Parlor, Giovanni's Trattoria, Il Sogno, Mona Lisa, Mangia Kitchen, Mimmo's, Nonna's Pizzeria, Sweet Sweet Sues, Flanagan's, Ari Rang, La Iguana Azul, Smash Burger and Talk of the Town.
Tickets are $20 if you register at the event. Ticket holders receive a complimentary tasting at each participating location and are granted access to the trolley.
REGISTRATION LOCATIONS
There are three separate registration locations where guests can check in:
* Richmond County Savings Bank in Annadale, located at 820 Annadale Road.
* Richmond County Savings Bank in Eltingville, located at 4523 Amboy Road.
* Richmond County Savings Bank in Great Kills, located at 3879 Amboy Road.
When checking in, guests are given a map highlighting participating locations and a booklet which is used to redeem the complimentary tastings. Guests are able to cast their vote for their favorite participating location and the winner will be presented with a "Best of the BID Award."
For questions, tickets, and more info, call 718-490-5023, visit www.SouthShoreBID.org, or text the word "SSBID" to the number 313131.