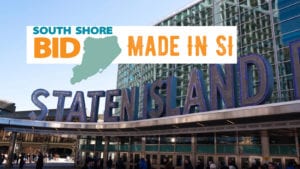 STATEN ISLAND, N.Y. — The South Shore Business Improvement District has started a new campaign to highlight local businesses and community leaders in response to the controversial MTV reality show, "Made In Staten Island."
"Our borough is filled with outstanding leaders and a tremendous number of successful businesses," said Gary Fleming, president of the South Shore BID. "Let's turn a negative into a positive and showcase what Staten Island truly has to offer by highlighting these individuals and business owners."
The campaign, titled "Made In SI," is accepting nominations for community leaders and favorite businesses until Monday, Feb. 11. Businesses must be located in Annadale, Eltingville or Great Kills, and the community leaders must reside on Staten Island.
After Feb. 11, the nominees will be announced on the South Shore BID's social media platforms and the public will be allowed two weeks to vote.
The winners will be announced on Monday, Feb. 25, by 10 p.m.
The winning business will receive a professionally produced commercial, courtesy of Emerald Studios, while the community leader who wins will receive an award at the organization's annual meeting in September.
"This is a great idea by the BID," said Councilman Joe Borelli (R-South Shore). "Our community coming together, as it always does, to showcase what's really Made In Staten Island."
Shortly after "Made in Staten Island" was announced, Borelli tweeted his disappointment, calling the show "embarrassing." The cast responded by visiting his office with pizza and donations for Coast Guard families affected by the government shutdown.
For more information, visit www.SouthShoreBID.org.