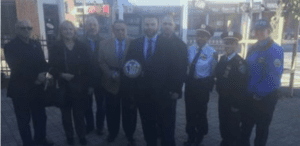 STATEN ISLAND, N.Y. — Amid a rash of burglaries across Staten Island, new security cameras will be installed along the Great Kills business strip.
The cameras are the result of an effort by the South Shore Business Improvement District (BID), Councilman Joseph Borelli (R-South Shore), the 122 Police Precinct and the Staten Island Chamber of Commerce.
"Today we are taking another major step forward by announcing that we will be installing security cameras in Great Kills in an effort to make the area safer for business owners and patrons alike," said Gary Fleming, president of the South Shore BID at a press conference outside of the Amalgamated Transit Union Building in Great Kills on Monday.
Borelli allocated $10,000 in funding to help subsidize the cost of the security equipment.
The BID, in conjunction with the Staten Island Chamber of Commerce, has made public a Request for Proposals (RFP) calling for vendors to submit proposals for the project.
An extensive site survey of the area was created by Legend Business Group working with the 122 Police Precinct. The plan calls for five to seven cameras to be installed initially in areas that have been identified as "hot spots," said Anthony Rapacciuolo, executive director of the The South Shore BID.
MORE CAMERAS TO COME
"Great Kills will act as a pilot program for the camera initiative," said Borelli. "The goal is to ultimately place similar cameras in the towns of Annadale and Eltingville over the next two years so that the entire District will be safer."
Said Rapacciuolo: "The organization's goal is to make the towns safer, cleaner, and more appealing to businesses and the island at large. Thank you to Councilman Borelli, Linda Baran of the Chamber, and the 122 Precinct for bringing us that much closer to achieving our goal."
He said he expects the cameras are expected to be up and running by January.
Over the past few months, the BID has enlisted private sanitation in the towns of Annadale, Eltingville, and Great Kills, placed 20 trash receptacles, hung 58 banners, and created an online business directory for its merchants, said Rapacciuolo. In addition, the group will be hosting its annual tree lighting event in the town of Annadale on Nov. 27 from 5 to 7 p.m.