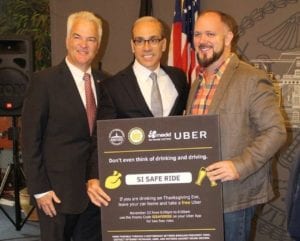 STATEN ISLAND, N.Y. — Borough President James Oddo, District Attorney Michael E. McMahon and Uber announced Thursday the creation of the "SI Safe Ride" initiative meant to combat drunken driving Thanksgiving Eve.
Between 6 p.m. Wednesday, Nov. 22, and 6 a.m. Thanksgiving, Staten Island residents can use the promo code "SISAFERIDE" in the Uber app for two free rides worth up to $15 each. The rides must start and end on Staten Island.
If a ride costs more than $15, the rider will be responsible only for the difference.
"We don't want a single person getting behind the wheel of a car drunk," Oddo said. "The night before Thanksgiving is traditionally a big party night where we make bad decisions. Through this partnership we want Staten Islanders to know that if they are planning on drinking that night, they have easy access to a ride both to their destination and back home."
"For so many Staten Islanders, Thanksgiving Eve is a night to reconnect with old friends in our hometown. Unfortunately for some that means getting behind the wheel after drinking too much and putting lives at risk," McMahon said. "But make no mistake about it — if you are caught driving under the influence of alcohol or drugs, the NYPD will arrest you and my office will prosecute you to the full extent of the law."
According to Tara Spohrer, New York Walk manager for Mothers Against Drunk Driving (MADD), Uber has been a proven tool in reducing drunken driving incidents.
DUI arrests in Seattle decreased by more than 10 percent after Uber started serving riders and drivers in the city, according to a recent study.
"This initiative ensures that people can keep their cars home and not have to make that decision of leaving their cars parked overnight in a neighborhood far from home. I strongly urge those who going out in Staten Island that night to make the right choice and use the code for the free rides," Oddo said.
In 2003, Oddo and McMahon, who were City Council members at the time, sponsored a similar initiative, Operation Arrive Alive, which relied on bartenders to call a cab for patrons who asked for one.
The Forest Avenue BID, the South Shore BID and the Richmond County Bar Association have signed on as main sponsors of the SI Safe Ride initiative.