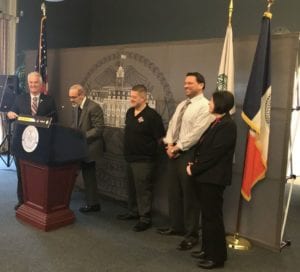 STATEN ISLAND, N.Y. — Whether you're cheering or hate-watching the Super Bowl, the one thing you won't have to worry about is getting home.
Football fans will be able to get a free ride from Uber this Sunday instead of driving home thanks to the SI Safe Ride Initiative, a partnership between Borough Hall President James Oddo, Uber, District Attorney Michael McMahon, the NYPD and Mothers Against Drunk Driving.
From 3 p.m. to midnight, Staten Islanders can get one free ride on Feb. 4 from Uber by entering the promo code "SAFERIDESI." The offer will cover up to $15 for rides that start and end in Staten Island. There are a little under 500 available codes.
Nearly 3,000 Staten Islanders participated in the partnership's first campaign, which offered free rides the day before Thanksgiving.
"The businesses that are located in those towns called back and said they got tremendous feedback," said Anthony Rapacciuolo, executive director of the South Shore Business Improvement District. "People would — not that we promote them drinking more – but let's say spend more money because they knew that they would be safe."
A WARNING
Both McMahon and Oddo offered stern warnings for Staten Islanders who were thinking about driving home after the big game.
"If you get behind the wheel, whether it's Super Bowl Sunday or any other day," said McMahon. "You will be arrested and you will be prosecuted, because you are not only a danger to yourself but the community at large."
"You do not want to make a bad decision and you do not want to find yourself in back of a car and before him," said Oddo, referring to the D.A.
After their warnings, the two officials contemplated why any New Yorkers would be celebrating this year's Super Bowl.
"I personally cannot understand why given who's playing in this game," said McMahon, a New York Giants fan. "The only Eagles I've ever rooted for are the St. Peter's Eagles."
Oddo agreed.
"I don't know if we can say we're rooting for a bloody draw," said Oddo, a New York Jets fan. "I'm just rooting for the game to be over soon."
Oddo and McMahon sponsored a similar initiative in 2003 called "Operation Arrive Alive" when they were in the City Council. That program didn't have any underwriting and instead relied on working with bars so that bartenders would call cabs for customers who requested one.
The promotion is sponsored by the Forest Avenue Business Improvement District (BID), the South Shore BID, the Carl V. Bini Memorial Fund and the Richmond County Bar Association.