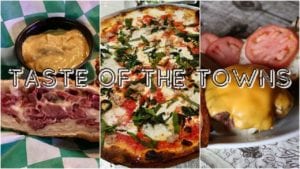 Savor the flavor of Staten Island.
STATEN ISLAND, N.Y.– It's no secret that Staten Islanders know good food when they taste it.
On Sunday, June 10, the South Shore Business Improvement District and Councilman Joe Borelli are taking pride in the diverse and tasty restaurant selection Annadale, Eltingville and Great Kills offers with trolley ride through the towns.
They're calling it "Taste of the Towns."
Pro tip: Come hungry.
So far, there are 22 local restaurants and bars participating in the South Shore BID's trolley tour, which rolls from 1 to 5 p.m.
Keep scrolling to check out some Staten Island hot-spots featured on this ride and how to snag your tickets.
Annadale Bakery
Grab some sweets from the 2017 Best of Staten Island Award: Bakery winner during this tour through the South Shore.
The Pizza Parlor
The Pizza Parlor serves up paninis, burgers and of course, cheesy pies of every size.
FYI: Yes, there are quite a few Italian restaurants on this lineup, but there is more than just pizza. Keep scrolling.
Play Sports Bar
Bottoms up at Play Sports Bar. Visit the pub for drinks and bar food like wings and garlic knot sliders. (Yes, Play uses garlic knots as a sandwich bun. I didn't know I needed that in my life until now.)
Mona Lisa
Mona Lisa Pizzeria owner Leonardo Giordano is getting creative with his menu, adding pistachio cream sauce and stracciatella, a super creamy, unctuous cheese made from buffalo milk, to the restaurants pizza topping list.
Sweet Sweet Sue's
Embrace this Annadale sweet spot by tasting its cupcakes, cookies and more.
Alfonso's Bakery
If you didn't eat a pastry at Alfonso's, were you even in Eltingville?
Campania
Known for it's high-quality brick oven pizza, the acclaimed Campania's in Eltingville welcomes hungry Staten Islanders. (BTW: This is "Saturday Night Live" star Pete Davidson's favorite borough pizzeria.)
Filoncino Cafe
Staten Islanders can grab a savory sandwich, like the broccoli rabe and mozzarella menu item pictured here, at Filoncino Cafe.
Joyce's Tavern
Irish and American fare come together at Joyce's Tavern in Eltingville.
Giovanni's Trattoria
Crunchy crust, peppery arugula, vinegar tomatoes and molten burrata: This is what dreams are made of.
Holiday Beverage
The Eltingville shop carries an array of drinks, fit for everyone.
Smash Burger
The beloved burger stop lets customers build their own sandwiches from the bun up, with sides like fries in rosemary, garlic and olive oil.
Arirang Hibachi Steakhouse
The "cook it in front of you" style service is a favorite in Great Kills.
Flanagan's Tavern
Flanagan's "Irish egg rolls," pictured here, are made of Swiss cheese and corned beef.
Mimmo's
At Mimmo's, all pizza is created equal. Check out that wide array of pie, folks.
Nonna's Pizzeria
Pictured: The Nonna's storefront.
Not pictured: The cheesy, doughy, deep-dish Sicilian pizza pies the restaurant makes on the daily.
Talk of the Town
Talk of the Town, tucked in the corner of Great Kills, opens its doors to trolley travelers with beer and bar games like shuffleboard.
Wanna ride?
Also joining the lineup of restaurants and bars are Annadale's Curly Wolf Saloon, The Square, La Sorrelina, Mangia Kitchen and La Iguana Azul in Great Kills.
Those who purchase tickets online in advance get in for $20. Those who wish to join the day of are admitted for $25 per person.
To check in, attendees must report to one of these locations:
Annadale: Richmond County Savings Bank at 820 Annadale Road
Eltingville: Richmond County Savings Bank at 4523 Amboy Road
Great Kills: Richmond County Savings Bank at 3829 Amboy Road
Those in charge of the event will scan your ticket, give you a map of all of the participating locations, and give you coupons which you will present to each participating location in order to get your sample.
Contact
or (718) 490-5023 for more information. Visit
SouthShoreBID.com for updated details.